We held our Annual Meeting at the Smith College Alumna House on October 11th.
Our board re-elected J Vaughn to serve as Chair, and elected Shardool Parmar to serve as Treasurer.  We recognized Roger Webb, outgoing Treasurer, for his years of service and stewardship.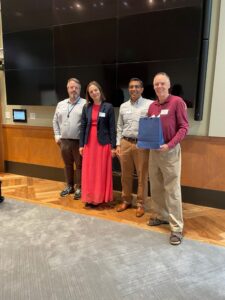 Sarah Sullivan, our 30 Poems in November! Event Chair for the 6th year, reminded guests that our annual Poem-a-thon starts November 1st with a writers workshop at our Northampton program site.
We honored Jane Yolen, long time 30 Poems writer and prolific local author and activist, for her years of writing and raising with her, and for her newest book, Straw Bag, Tin Box, Cloth Suitcase: Three Immigrant Voices, which includes the story of our alumna, Raquel Elizabeth Artiga de Paz.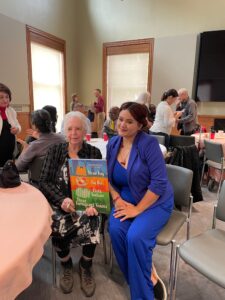 Our colleagues Mohanad Salman, Technology Associate, Alex Kaezem, Immigration Attorney, and Stephanie Pasternak, Volunteer Coordinator, provided highlights of our program using Mohanad's excellent presentation.
Thanks to an equipment loan from Northampton Open Media and the steady hand of our Technology Coordinator, Peg Thibbitts, you can watch a recording of the meeting.