Join us for our 2nd Annual Civics Bee at this year's annual meeting, Wednesday, September 28th, 5:00-7:00 PM in Northampton. Cheer local leaders and new U.S. citizens as they answer questions designed by citizenship volunteers, Faith, Margaret, and Susan.  Enjoy light refreshments prepared by former student, Mayyadah.  Chat with students, clients, staff, board members, volunteers. Please email laurie@cnam.org for details and to RSVP.  Or watch the livestream provided by Northampton Open Media. Click here to watch starting at 5:30 PM.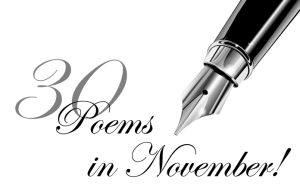 30 Poems in November!  is a literary fundraiser to support our free English classes for immigrants, refugees, migrants, asylum-seekers. Writers write a poem each day in November and ask family and friends to sponsor them.
Writers – Please click here to create your fundraising page.
Friends and Supporters – Please click here to support a participating writer or make a general donation.
We will update this page regularly with news of writing workshops and other events.
Our Reading & Celebration will take place December 14th at the Northampton Center for the Arts.