On July 2nd, Center for New Americans hosted our 13th annual ceremony. This ceremony is traditionally held on the lawn of the Northampton Courthouse.  Although the weather was predicted to be cloudy with periods of rain, the ceremony was held outside under a tent in order to include family, friends, and community members.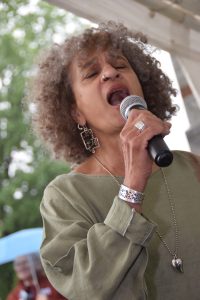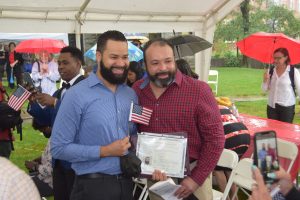 The Daily Hampshire Gazette, MassLive, and Channel 22 News captured the event.  Northampton Mayor David Narkewicz, Deputy Clerk Maurice Lindsay, U.S. Magistrate Judge Katherine A. Robertson, and U.S. Citizenship & Immigration Services assistant, Garrin Schlink  welcomed and congratulated the new U.S. citizens. Evelyn Harris offered a heartfelt rendition of patriotic songs, and Jasmin Vieau, naturalized in 2019, recited the Pledge of Allegiance.
Local leaders, D.A. David Sullivan, State Senator Joanne Comerford, and State Representatives Mindy Domb and Lindsay Sabadosa were present, as were staff, volunteers, and friends of Center for New Americans.
Click here to see the event program.
Center for New Americans thanks our event sponsors:
River Valley Co-op, Greenfield Savings Bank, Bueno Y Sano, Greenfield Cooperative Bank, Integrity Development & Construction, Florence Bank, UMass Five College Credit Union, Congressman Jim McGovern, Senator Joanne Comerford, State Representatives Natalie Blais, Mindy Domb, Paul Mark, and Lindsay Sabadosa, Marisa Labozzetta & Martin Wohl, Atkins Farms Country Market, Trader Joe's, Wohl Family Dentistry.