STANDARD DRIVERS LICENSE VS. REAL ID
REAL ID is a Federal Security Standard for identification that was created in 2005. Beginning October 1, 2020, you will need a REAL ID or a passport to fly within the United States or enter federal builDo I have a choice of driver license/ID types?
The cost to obtain a REAL or Standard driver's license/ID card is the same.  
For more information, please visit the Massachusetts Registry of Motor Vehicles website.
For more information on documents needed for a Real ID, please read the attached document.
---
SCAM ALERTS
Latest Scam:
The Office of Attorney General Maura Healey warns of scammers promising mortgage debt or other debt relief to you and your family from mortgage debt or unpaid taxes! They ask you to sign a document.
​DO NOT proceed in this type of transaction!  Please call the Attorney General's Consumer Advocacy and Response Division at 617-727-8400 for questions or concerns.
LEARN HOW TO AVOID SCAMS
PROTECT YOURSELF FROM SOCIAL SECURITY SCAMS
Telephone and email scammers are pretending to be government employees. They say that there is a problem with your social security number or account.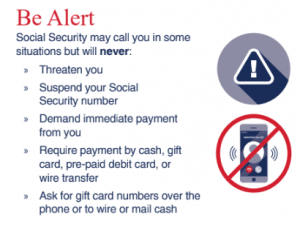 If you receive a suspicious call:
1.    HANG UP!
2.    Do not give money or personal information
3.    Report the scam at www.oig.ssa.gov
https://www.youtube.com/user/SocialSecurityOnline
---
UPDATE ON TEMPORARY PROTECTED STATUS (TPS)
The Department of Homeland Security (DHS) has extended Temporary Protected Status (TPS) designations for El Salvador, Haiti, Honduras, Nepal, Nicaragua and Sudan through Jan. 4, 2021.
The notice automatically extends the validity of Employment Authorization Documents; Forms I-797, Notice of Action; and Forms I-94, Arrival/Departure Record (collectively, TPS-related documentation). The validity dates for the affected countries are:
TPS Designation(s):
El Savador, Haiti, Nicaragua, and Sudan
Current Date: January. 2, 2020
New Expiration Date: January 4, 2021
Honduras
Current Date: January 5, 2020
New Expiration Date: January 4, 2021
Nepal
Current Date: March 24, 2020
New Expiration Date: January 4, 2021
---
DHS is extending the TPS documentation in compliance with the preliminary injunctions of the U.S. District Court for the Northern District of California in Ramos, et al. v. Nielsen, et. al. and the U.S. District Court for the Eastern District of New York in Saget, et. al., v. Trump, et. al., and with the order of the U.S. District Court for the Northern District of California to stay proceedings in Bhattarai v. Nielsen.
For more information, see the notice and the TPS page on the USCIS website.
TPS  for Residents of Yemen an
TPS for people from Yemen and Somalia extends through March, 2020. For more information, please can check the USCIS website.
My TPS Is Ending – What Can I Do?
You may choose to leave the U.S.  Maybe you have lived here for decades and have family here.  You may not want to leave.  There are options that will allow some people to obtain legal status and remain in the U.S.
Recommendations
1.  Verify whether there is a deportation order out for you.  TPS recipients can check by calling 1-800-898-7180 and entering your A number.  Enter option 1 to learn if you have a hearing date.  Enter option 3 to learn about any decisions that were made about your case. If there is no information about you then there is no deportation order for you.
2.  Get your records now.  Find out what information is in the government's official files.  It is important to know if there is something you have forgotten about or is different from the way you remember it.  Freedom of Information Act (FOIA) provides access by anyone to government records.  The Privacy Act (PA) allows an individual to access his/her individual records from government.
File Freedom of Information Act (FOIA)/Privacy Act (PA) requests with any of the following offices with which you have had contact:
There are different processes depending on which office has the records you want.  Check the websites for more information.
• USCIS    (U.S. Citizenship & Immigration Services)
• ICE        (Immigration and Customs Enforcement)
• CBP       (Customs and Border Patrol)
• EOIR      (Executive Office for Immigration Review, a division of the U.S. Department of Justice)
3.  Make a list of all the contact you have had with those offices.
Did they stop you, pick you up, detain you, or deport you?  Did you go to immigration court?  Did you apply for any immigration visas, refugee status or asylum?  Did anyone apply for you?  If you answer "Yes" to any of these questions, you should talk to an immigration professional.
4. See if you can get legal permanent residence (a green card).
There are limited ways to get permanent residence: family-based, employment-based, diversity visa, refugee/asylee, money to invest, extraordinary talent or being a victim of crime/violence.
• Family-based means you have a spouse, adult child, parent or sometimes a sibling who can petition for you.
• Employment-based is when an employer petitions for you, after proving that no one else who is able to do the job is available.
• Every year, there is a lottery for people who want to get green cards.  Interested people submit their applications and a few lucky people are allowed to get green cards.  In order to enter the lottery you have to be outside the US or here legally.  Many people would be eligible to apply for this.  https://travel.state.gov/content/travel/en/us-visas/immigrate/diversity-…
• People who enter the US already classified as refugees from persecution or who are granted asylum so they do not have to return to a country where they would be persecuted may apply for green cards after one year
• People who have a lot of money and plan to open a business that will provide employment to a certain number of people may be eligible to apply.
• People who have very unusual abilities may also apply, such as athletes, artists, and scientists.
• People who were victims of certain crimes and cooperated with the police or were the spouse (child/stepchild) of someone through whom they got their immigration status who abused them.
For more information you can check the following websites:
https://www.uscis.gov/greencard/eligibility-categories 
https://www.uscis.gov/non-uscis-forms (tourist visas, passports, etcetera)
---
WE HAVE RIGHTS
In Our Communities, In Our Streets